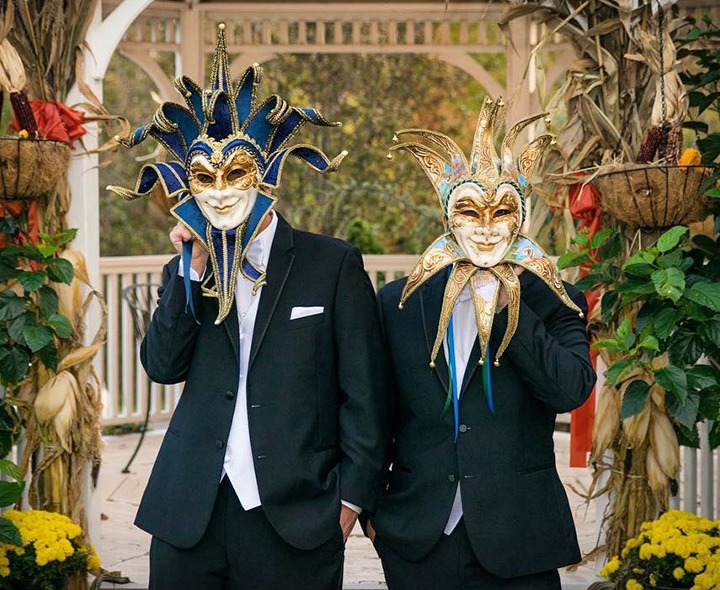 Masks for weddings, ceremonies, and parties represent not only a valuable historical reminder, but also a trend that over time is ensuring attractiveness and interest on the part of users and entrepreneurs.
Original Venice's mission is to create a meeting point between the best Venetian artists and lovers of beauty, the "Serenissima" and its unique products. Venetian masks are true works of art and it is appropriate to offer artistic, authentic and handcrafted creations to those who have the passion and taste to understand and appreciate them.
M
asks for weddings, ceremonies and parties: styles that link past and future
Those approaching the choice of event masks for the first time, from wedding masks to party masks, may find it difficult given the huge number of variations available. In order for one to have a clearer idea of which model to choose, it is interesting to examine the types most popular among consumers and fans who have a desire to organize masquerade events and parties.
Colombina masks
Columbina masks are one of the most elegant and refined expressions of Venetian craftsmanship. This style of masks is named after the character Colombina from the Italian commedia dell'arte tradition. The masks are distinguished by their grace and delicacy, ideal for special events such as weddings, parties and ceremonies.
In Original Venice Shop's catalog you can find a wide selection of Colombina masks, each with its own unique and charming design. The masks are handmade by skilled Venetian artisans, who showcase their craftsmanship and creativity in every single detail.
Columbina masks are characterized by their slender and sinuous shape, often adorned with decorative ornaments such as lace, rhinestones, precious stones, and gold threads. Each mask is a unique work of art, made with high-quality materials and meticulous attention to detail.
Wearing columbine masks means immersing yourself in an atmosphere of mystery and romance. These masks fit your face perfectly, offering optimal comfort during your special evenings. You will have the opportunity to surprise your guests with your elegance and leave a lasting impression thanks to the intriguing beauty of the masks.
Whether you are planning a dream wedding, a gala party, or a romantic evening, columbine masks will add a touch of magic and sophistication to your event. Each mask tells a story and embodies the very essence of Venice, a city rich in tradition and charm.
W

omen's masks
Women's masks are a true symbol of beauty; these accessories are perfect for adding a touch of mystery and elegance to any event, whether it is a wedding, a masquerade party, or a gala evening.
In our catalog you will find a wide selection of Women's masks, each with its own unique and refined style. Crafted by skilled artisans they capture the essence of femininity and elegance.
Women's masks are characterized by sinuous lines and delicate details. You can find models with classic shapes such as the full-face mask or lighter variants such as the mask or the half-face mask. Each product is embellished with decorative elements such as lace, rhinestones, pearls and flowers, which add a touch of luxury and sophistication.
Wearing a women's mask allows you to transform into an enigmatic and seductive figure. These accessories are designed to fit the female face perfectly, ensuring optimum comfort. They are ideal for expressing one's personality and creating a unique and fascinating look.
Whether you wish to be a mysterious queen of a masquerade party or add a touch of romance to your wedding attire, women's masks will help fulfill that desire. They come in a wide range of colors, styles and materials, so you can find the perfect mask to enhance your beauty and personality.
M

en's masks
Men's masks embody the elegance and mystery that characterize Venetian craftsmanship. With bold designs they will add a touch of charm and masculinity to one's look. Crafted with skill and attention to detail, men's masks are perfect for special events, masquerade parties, or to create a unique atmosphere. You can choose a men's mask that suits your style and can surprise everyone with magnetism.
Sexy masks
Sexy masks are the epitome of seduction and charm. With a unique and provocative aesthetic they add a sensual and mysterious touch to one's attire. Made with high-quality materials and attention to detail, sexy masks are ideal for special events or for creating an intriguing and seductive atmosphere. Choosing a sexy mask that suits your style and being transported into a world of passion and seduction is the best way to enhance them.
Lace masks
Lace masks are a true masterpiece of elegance and sophistication. Made from the finest Venetian lace, they are a combination of delicacy and sensuality. Lace, with its intricate patterns and subtle textures, lends a touch of timeless romance and femininity. Lace masks are perfect for special events, weddings or galas, where you want to wear an accessory that catches the eyes and enchants everyone with its timeless beauty.
Bauta
The bauta mask is an essence of mystery and Venetian tradition. Dating back to the 17th century, this iconic mask covers the entire face, with a distinct, mouthless shape. The bauta allowed wearers to maintain anonymity, allowing them to freely explore the city without revealing their identity. A symbol of the Venice Carnival, it evokes an atmosphere of charm and secrecy. You will find a selection of bauta masks that will allow you to immerse yourself in the mystery and elegance of Venice.
Feathered masks
Feathered masks are an elegant fusion of grace and charm. These enchanting accessories ensure great visual impact with their ethereal beauty and the delicacy of the feathers that adorn them. Each mask is masterfully crafted by Venetian artisans, who carefully select the feathers to create harmonious and charming compositions. Feathered masks are ideal for creating unique and sophisticated attire during special events such as weddings, parties, and elegant evenings. They add a touch of sophistication for those who want to match them with a quality outfit that can catch the eye.
L

uxury masks
Luxury masks represent the pinnacle of elegance and luxury. These authentic Venetian masterpieces are made of fine materials and embellished with exquisite details. Each mask is the result of the craftsmanship of Venetian masters, who devote time and care to create unique, one-of-a-kind pieces. Luxury masks are perfect for those who seek excellence and wish to stand out with uncompromising style. They add a touch of opulence and sophistication to one's look and embody the essence of Venetian luxury.
A

sk us for masks for your events
Our offices are located just 10 minutes from the center of Venice. We are proud to showcase the beauty of the creative process and the skill of the artisans who make these wonderful masks.
Whether you want to organize an unforgettable event, a dream wedding or simply want to give a unique experience to yourself or someone special, masks are the perfect choice.