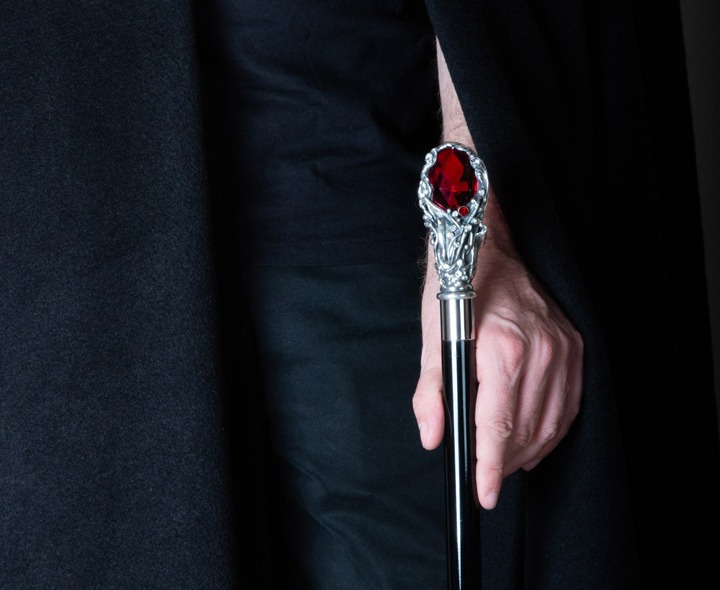 At Original Venice we have a novelty to present for lovers of Venetian handicrafts: we are talking about the very elegant walking sticks that are perfect for an original and cool disguise.
They are unique pieces that can satisfy all those customers who appreciate the artistic and authentic creations that are produced by master craftsmen right in Venice.
The sticks for disguises and costumes Original Venice® are highly regarded for disguises, being functional for various costumes and characters but at the same time also elegant and refined. Beech wood, made in Italy, is used for their production, and what catches the eye are the decorations present, made by hand, which, depending on the handle, give those who decide to use them that extra touch of style and elegance to be noticed and appreciated.
These are luxury walking sticks: the handcrafted production with quality materials makes them unique and rare pieces, not easy to find in the traditional market. 
The various types of decorations on offer, such as the depiction of animals or the use of precious stones, certainly play their part: they enrich the product, as they contribute to making it elegant and unique.
Being sticks to be matched with the costume and disguise, Carnival can be an ideal occasion to show them off, as well as some special occasions: they are accessories that, especially for their marked originality, cannot be missing from one's outfit and can contribute to enhancing it thanks to their elegance.
Entering specifically into our proposal signed Original Venice®, there are several products that can suit costume and disguise enthusiasts and those who love quality craftsmanship: the variety is quite wide and the store offers numerous purchase possibilities, being able to count on a vast assortment capable of satisfying the needs of a large number of consumers.
Among the most interesting walking sticks for disguises is the Greyhound 001, one of the most popular products to be combined with various types of fascinating mystery characters.  Its total height is between 92 and 94 centimetres. It is made of beech wood, lacquered black, while the handle, depicting a greyhound's head, stands out with its silvery coating. The main qualities of this stick are its elegance and durability: the high-quality materials it is made of allow it to be used for a long time. It also proves to be ideal for collectors and those who adore its decorations.
The Lion 003 Walking Stick is made of black lacquered beech wood and its handle depicts a lion's head and is made of golden brass, in which the decorative use of coloured Swarovski crystals stands out. Its height is between 92 and 94 centimetres. It is much loved by our customers because of the particular quality of the materials that were used to produce it, as it is not just a collector's item: it is a walking stick that can also be used over a long period of time and not just for a single event.
Among the luxury walking sticks, we cannot fail to mention the Foglia Rossa, for the production of which beech wood was used, then lacquered black. Its height is between 92 and 94 centimetres. Its red crystal handle covered in silver is highly prized by collectors and others.
Finally, the Corona walking stick, also made of Italian beech wood and a black lacquered coating, deserves a final mention. The handle depicts a silver-covered crown that is characterised by the presence of a few small coloured gemstones. Its height does not exceed the range of 92 to 94 centimetres.