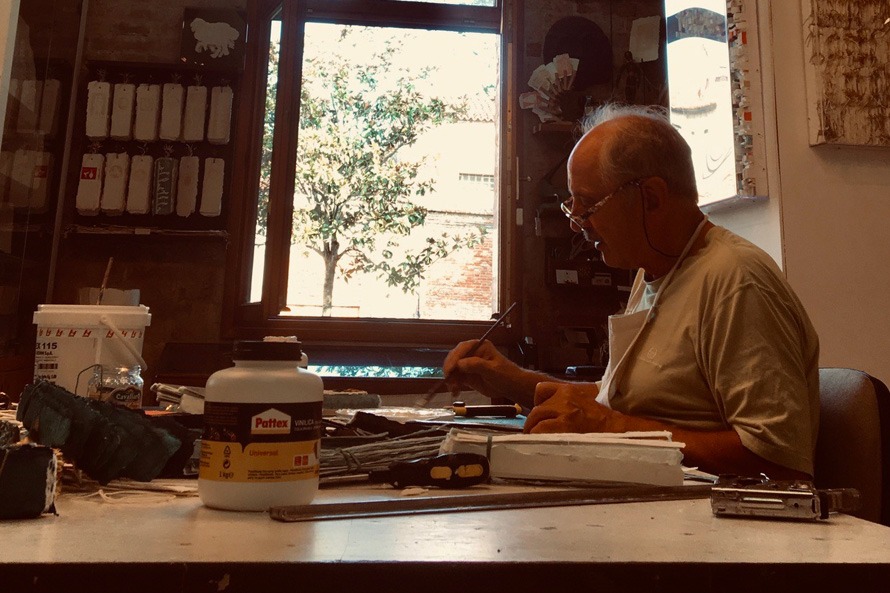 In the Giudecca district of Venice, we discover a wonderful workshop in great ferment. A pleasant smell of paper, colours and glue accompanies our steps while our eyes admire countless works hanging from the ceiling, the walls or resting on the workbenches.
They are special, evocative creations, based on subjects from classical and Renaissance art, but what strikes our attention are the surfaces and materials of which these works are made: cotton paper.
This material has origins that are lost in distant times and lands, but its tradition and fine working technique is still alive today thanks to master craftsman, Fernando.
After graduating in graphic studies in Venice, he became passionate about the art of cotton paper processing. A precious and fascinating material with delicate and rough surfaces that are pleasant to the touch and to the eye.
The forms and uses of cotton paper are innumerable: as a writing instrument or to decorate interior spaces.
The choice of this material for Fernando is due to its technical (resistance and elasticity) and aesthetic characteristics. Matured after a long period in the industry, this choice allows the production of objects that convey a passion and a timeless tradition. Both to the touch and to the eye, our craftsman's prints come to life and each one tells a little story. The cut of the sheets is particularly valuable, jagged and irregular to underline that the object in front of you is a unique piece and entirely handmade.
The artistic creations are divided into precious guest books (guestbook, presence of signatures and dedications), photo albums, artistic prints for decoration, diaries, notebooks, bookmarks and more.